Shop Online & have your order delivered anywhere in South Africa | Independent Distributor
Product Restrictions : Vitamin C, Chewable All-C, Zinc and Spray Bottles will be limited to 3 per order
Thank you for your continuous support & may you and your family be protected & stay safe during Covid19 LockDown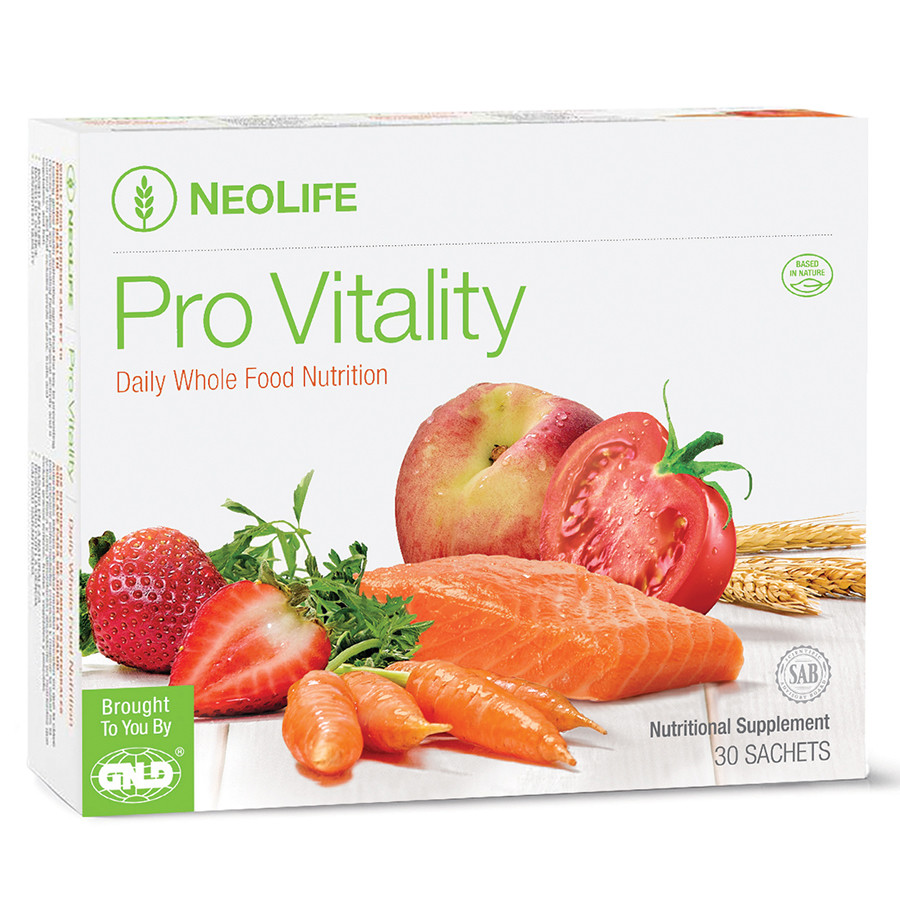 GNLD Neolife Pro Vitality (30 Sachets)
SKU 2595
Product Details
Credit Amount R62 per month
---
#Neolife Pro Vitality+
Each packet contains 1 capsule of •Tre-en-en® • Carotenoid Complex • Omega-III Salmon Oil Plus Essential Vitamin & Mineral Complex

A complete month's supply for optimal vitality . . .

3 packets a day are the recommended amount of Tre-en-en®, Carotenoid Complex, and Omega-III Salmon Oil Plus to best turn an upside down pyramid right-side up, providing the key nutrients from whole grains, fruits and vegetables, and fish that play a critical role in lowering the risk of chronic disease.

The Pro Vitality 3 pack is a complete 30 Day Pack, providing nutritional support for a full month's worth of abundant energy, powerful antioxidant protection, heart health support, immune strength, healthy brain function, flexible joints, clear vision, youthful hair, skin and nails, and cellular health.*

It's the essential pro-active nutrition support for lifelong health and vitality.


PRO-ACTIVE NUTRITION FOR LIFELONG VITALITY that supports*:


• Powerful Antioxidant Protection
• Heart Health
• Immune Function
• Healthy Brain Function
• Flexible, Healthy Joints
• Clear Vision
• Healthy Skin, Hair and Nails
• Lifelong Cellular Health

Each Sachet provides 3 easy to take soft gel capsules:


Tre-en-en® Grain Concentrates
Feed the Cells
Tre-en-en is the world's first and only whole grain lipids and sterols supplement. Lipids and sterols provide critical support for the healthy cellular uptake of nutrients and export waste and metabolites.


Carotenoid Complex
Protect the Cells
Carotenoid Complex is the world's first and only whole food, fruits & vegetables carotenoid supplement. Carotenoids contribute to antioxidant activity in cellular lipids, support normal cellular growth and renewal, and assist healthy levels of immune cell activity.


Omega-III Salmon Oil Plus
Balances & regulates the Cells
Omega-3 Salmon Oil Plus is the world's first complete fish oil supplement with all 8 omega-3's which play a crucial role s in the health and function of the: heart and cardiovascular system; brain, central nervous system and vision; joints and connective tissue and the cellular inflammatory / anti-inflammatory balance of the body.
Essential Vitamin & Mineral Complex
Nourish the Cells
Proprietary blend of 23 essential vitamins and minerals with phytoenzymes of easy digestion and absorption
*These statements have not been evaluated by the Food and Drug Administration. This product is not intended to diagnose, treat, cure, or prevent any disease.

#Neolife #ProVitality #GNLD #GoldenProducts #SouthAfrica
---
Ingredients
Vitamin A, Vitamin D3, Vitamin E, Vitamin C, Vitamin B1, Vitamin B2, Niacinamide, Vitamin B6, Folic acid, Vitamin B12, Pantothenic acid, Calcium, Phosphorous, Magnesium, Zinc, Iodine, Iron, Copper, Manganese, Selenium, Chromium, Molybdenum, Potassium, Lecithin, Malt diastase, Rose hips, Yeast and Soya protein

TRE-EN-EN Grain Concentrate Blend
Rice bran oil, Soya bean oil, Wheat germ oil
Other Ingredients: Wheat germ powder, Stabilised rice bran powder, Vitamin E oil with mixed tocopherols

Omega-3 Fatty Acids
EPA (Eicosapentaenoic acid)
DHA (Docosahexaenoic acid)
DPA (Docosapentaenoic acid)
Stearidonic, Eicosatrienoic, Eicosatetraenoic, Heneicosapentaenoic, and Alpha-Linolenic acids

Carotenoid Complex Blend
Carrot extract, red bell pepper extract, tomato extract, spinach extract, apricot concentrate, strawberry concentrate, peach concentrate
Beta carotene, Alpha carotene, Lycopene, Lutein/Zeaxanthin, D-alpha-tocopherol

Other Ingredients: Gelatin, salmon oil, UHPO3 (Ultra High Potency Omega-3) fatty acid concentrate (tuna, sardines and anchovies), glycerin, olive oil, yellow beeswax, purified water, soya lecithin, corn starch, silicon dioxide, titanium dioxide, sodium copper chlorophyllin and annatto oil concentrate.

NAPPI Code: 718703-001
No Artifical colours, flavours, or preservatives added. Store in a cool dry place below 25'C protect from light
widget.co.za/assets/js/instalment.js"></script>
Save this product for later