Shop Online & have your order delivered anywhere in South Africa | Independent Distributor
Product Restrictions : Vitamin C, Chewable All-C, Zinc and Spray Bottles will be limited to 3 per order
Thank you for your continuous support & may you and your family be protected & stay safe during Covid19 LockDown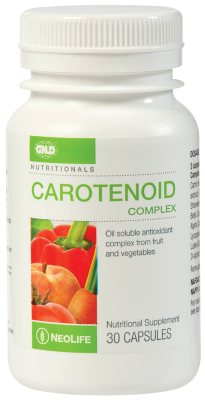 GNLD Neolife Carotenoid Complex (30 Capsules)
SKU 2564
Product Details
Credit Amount R22 per month
---
Carotenoids refer to the naturally occurring colourful family of red, yellow and orange pigments found in the fruit and vegetables we eat. They also exist in many green plants but are masked by the presence of chlorophyll. Carotenoids contribute to antioxidant activity in cellular lipids, support normal cellular growth and renewal, and promotes immune cell activity. Carotenoids also assist in supporting the function of the cardiovascular system.

Product Description - GNLD's Carotenoid Complex is a broad spectrum, OIL SOLUBLE antioxidant complex derived completely from whole food sources. Each capsule provides a broad carotenoid spectrum that matches an optimal serving of fruit and vegetables. Carotenoid Complex is the only product of its kind to provide this exclusive blend of carotenoid-rich concentrates in a form that the body can easily recognise and utilise.
Dosage: 1 to 3 capsules daily.
Why Neolife GNLD Carotenoid Complex is your best choice
Broad spectrum, lipid soluble nutrient supplementation. More than just beta-carotene, Carotenoid Complex provides a variety of carotenoid family members as they naturally occur in the human food chain in fruit and vegetables. Broad spectrum of carotenoid-rich fruits and vegetables provide a variety of 15 powerful carotenoid "family members" as they naturally occur in the human food chain in fruits and vegetables
Wholefood ingredients. Our exclusive blend of carotenoid rich extracts and concentrates is derived from wholefood tomatoes, carrots, spinach, red bell peppers, strawberries, apricots and peaches. Derived from tomatoes, carrots, spinach, red bell peppers, strawberries, apricots and peaches. Exclusive formula so unique it was patented
15 powerful carotenoid family members. Our unique formula has been tested and shown to deliver alpha-, beta-, cis-beta-, gamma- and zeta-carotene, lycopene, cis-lycopene, lutein, zeaxanthin, alpha- and beta-cryptoxanthin, violaxanthin, canthaxanthin, capsanthin and crytocapsin.
Diets abundant - in carotenoid-rich fruits and vegetables contribute powerful antioxidant benefits throughout the body, support immune cell activity and the cardiovascular system
Independent Research Studies. Significant immuno - supporting benefits verified by USDA.
Exclusive Nutrimax Process. Advanced technology yields a 98% extraction efficiency. Also includes low temperature processing and oxygen free encapsulation to guarantee high potency of lipid - soluble carotenoid nutrients.
Natural base of pure olive oil. Promotes ingredient stability and helps optimise carotenoid absorption.
Pure lecithin from soybeans. Helps maximise stability of carotenoid nutrients and aids their dispersion during digestion.
Clinically Proven
By USDA researchers to boost immune capacity by 37% in just 20 Days
Reduces oxidation of cholesterol
Boost antioxidant levels in the blood to support your vital organs
Studies conducted by USDA researchers suggest that a carotenoid-deficient diet compromises immune power and that the broad spectrum of carotenoids in Daily Carotenoid Complex could enhance the immune response of otherwise healthy people.
Daily Carotenoid Complex has been shown to :
Dramatically enhance both immune cell levels and overall immune cell responsiveness.
Boost levels of lymphocytes which are the body's first immunologic line of defense against disease.
Increase natural killer cell levels by more than 21% above baseline values in just 20 days: more than twice the effect of beta-carotene alone!
Reclaim lost immune power and boost overall immune capacity by 37% in just 20 days.* (Supplementation with beta-carotene alone did not provide this benefit).
Highly bioavailable: the ingredients in Carotenoid Complex are absorbed and utilised by the body.
Carotenoid power of 115 kgs of the raw fruits and vegetables it's made from
Whole food supplementation
*NOTE: measured as an increase in overall lymphocyte proliferation, a recognised standard for measuring immune competence and capacity to respond to an immune challenge.
3 Capsules contain 900 mg of Carotenoid Complex Blend consisting of
Carrot extract, Red Bell Pepper Extract, Tomato Extract, Spinach Extract, Apricot Concentrate, Strawberry Concentrate, Peach Concentrate
NAPPI-Code 834602-008


USDA RESEARCHER'S REPORT:
Kramer TR; Burri BJ
American Journal of Clinical Nutrition
Get full study (PDF, 4MB)

SAB RESEARCHER'S REPORT:
Carughi, A & Hooper F
American Journal of Clinical Nutrition
Get full study (PDF, 6.6MB)



widget.co.za/assets/js/instalment.js"></script>
Save this product for later