Shop Online & have your order delivered anywhere in South Africa | Independent Distributor
Product Restrictions : Vitamin C, Chewable All-C, Zinc and Spray Bottles will be limited to 3 per order
Thank you for your continuous support & may you and your family be protected & stay safe during Covid19 LockDown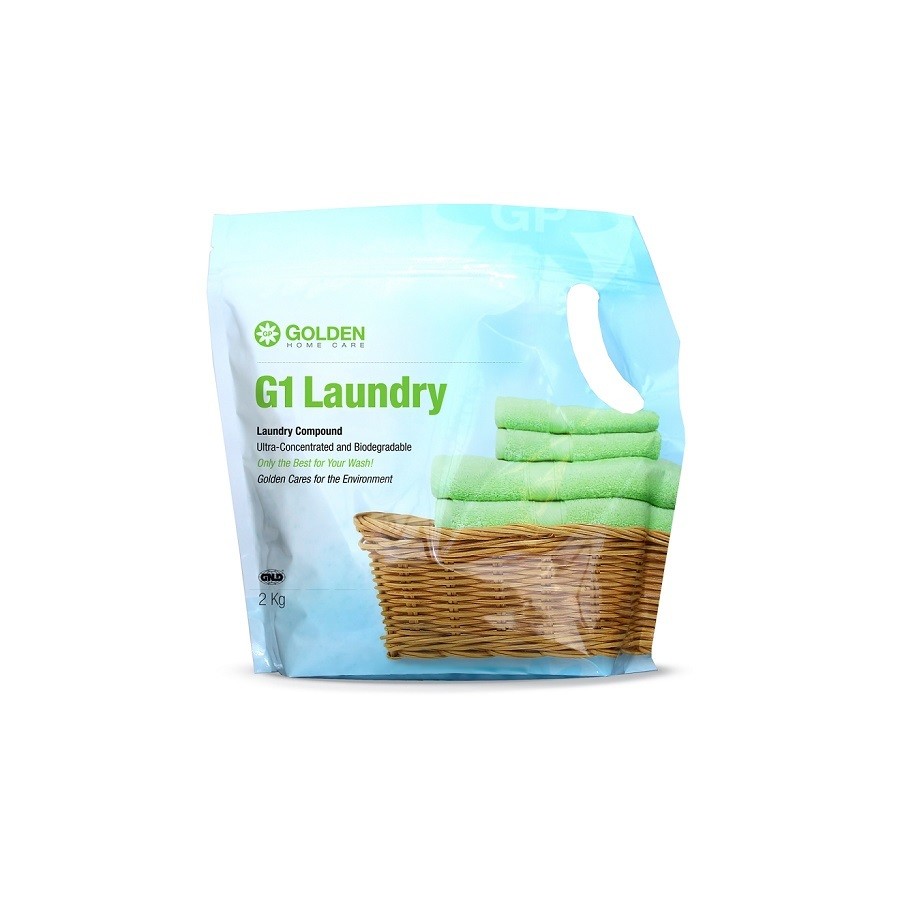 GNLD Golden Products Laundry Compound (2 Kg) - NEW LOOK
SKU 2141
Product Details
Credit Amount R27 per month
---
The all-new G1 Laundry Compound has a fresh, ultra-concentrated and more eco-friendly formula - making it strong enough to remove the toughest stains, yet still gentle enough for fine washables.
Only the Best for Your Wash
Cost-effective and versatile, Golden Home Care products have the strength you need to care for your laundry, while remaining earth-friendly.
G1 Laundry Compound
An ultra-concentrated laundry powder that is free-rinsing and biodegradable, while remaining powerful enough to tackle tough stains, yet gentle enough for fine washables.
Effective
• Ultra-concentrated compared to conventional laundry powders.
• Accelerated cleaning power using an Active Enzyme Blend.
• Attacks and eliminates tough stains and dirt.
• Ultra-concentrated, biodegradable formula includes a colour safe bleaching system.
• Refreshes clothes as it washes.
• Safe on all washable fabrics, including delicate garments.
Earth-Friendly
• Biodegradable – returns to its original components after use.
• Phosphate Free and non-polluting.
• Low foaming, vegetable derived surfactant.
Value for money
• Highly effective even at low temperatures, saving energy and protecting our planet's valuable resources.
• Protects washing machine parts, plumbing and helps prevent corrosion.
• Mini sized scoop included.
How is G1 Unique?
G1 is a micronised, highly concentrated formula with an Active Enzyme Blend that accelerates its cleaning power. It offers super cleaning power using from as little as 2 mini scoops for a 5kg wash. G1 is free-rinsing and formulated from high quality ingredients that actively work together to remove tough, ground in dirt. G1 contains special water softening agents to provide better cleaning capabilities in hard water
How it works:
Scientists have long known that dirt and stains are difficult to remove from laundry. Dirt particles seem to have an affinity for fabrics, clinging to them and resisting attempts to be dislodged. G1 with its Active Enzyme Blend releases dirt and stain particles from wet fabrics and keeps them in solution until the particles are neutralised and washed away. The result is a cleaner, whiter, brighter wash
Why G1?
Active Enzyme Blend. Biologically active, triple enzyme system for accelerated cleaning power. Very effective at removing protein and fatty stains.
Economical. Highly concentrated, micronised formula.
Versatile. Can be used in various degrees of water hardness and temperature.
Colour-safe bleaching system. To support the elimination of tough stains and dirt.
Low foaming. Will not impair the washing efficiency of automatic machines.
Helps prevent corrosion. Valuable washing machine parts and plumbing are protected. G1 will not cause detergent scum build up on tubs or in pumps.
Biodegradable. Returns to its original components after use
G1 addresses the 3 greatest laundry concerns of our time:
1 It gets clothes clean, white and bright. It works equally well in warm or hot water.
2 It's economical to use – mini scoop size compared to conventional brands.
3 It's non-polluting – an earth friendly product
How to Use
Dosage Recommendations : Use 1 to 4 mini scoops. Dosage depends entirely on the degree of soiling and the size of the wash load
Directions for Use:
5 KG Washing Machine :
Lightly Soiled : 2 Mini Scoops
Heavily Soiled : 3 Mini Scoops
7 KG + Washing Machine :
Lightly Soiled : 3 Mini Scoops
Heavily Soiled : 4 Mini Scoops
Guaranteed Quality
The SAB Seal is the stamp of approval of world renowned science & nutrition experts who put their reputation behind NeoLife's leading edge products.
Powerful, Economical and Earth-Friendly
Golden has been "GREEN" since the 1960s – long before it became the fashion. Our biodegradable formulas are earth-friendly. Low-dose, low-burden cleaning technology maximises performance with a minimum amount of product. No toxic fumes, no harsh chemicals!
widget.co.za/assets/js/instalment.js"></script>
Save this product for later